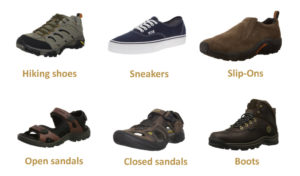 Our feet are historically designed to walk without footwear. Walking barefoot gives proper muscle training and strengthens the foot accordingly. Today, most people don't have healthy enough feet to go long distances without proper arch and foot support. Good walking shoes have a very good fit, are made of quality materials, last longer and are comfortable for their lifetime.
In this article we have chosen the best walking shoes for men for spring, summer and autumn. We have looked at the number of reviews and have chosen only footwear that had more than 1ooo reviews with an average of more than 4 out of 5 stars. These are all very popular shoes that have been on the market for a long enough time to be properly tested by many people.
We have chosen shoes in several categories: open and closed sandals, sneakers, boots, slip-ons and hiking shoes.