Most comfortable work boots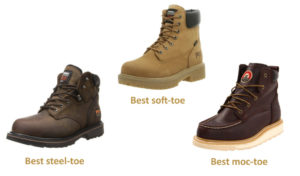 There are several categories of work shoes depending on a kind of work. In this research we will take a look at boots for working outside like construction, delivering and other types of work where people need to be outdoor in all kinds of weather in comfortable durable footwear.
We have chosen the best work boots according to the reviews of many people. These are also the most comfortable work boots in the year 2016.
Steel-toe or safety work boots
Steel-toe or safety boot is a classical good wearable boot with two forms of protection: hard toe and reinforced insole. The boot protects the foot from falling objects, electrical or water damages and punctures from below. There are different kinds of safety criteria for each type of boots.
Steel-toe boots are often cheaper due to the lower cost of manufacturing. There is a myth that steel-toe shoes will cut your toes if a heavy object is dropped on them. This myth was actually busted by Mythbusters.
Soft toe work boots
Soft toe boots are regular work footwear without extra toe protection. These are often lightweight as they don't have all the extra steel or composite material inside the shoe.
Good soft-toe lightweight work boots: Caterpillar Men's 2nd Shift 6″ Plain Soft Toe Boot
and Timberland PRO Men's Pitboss 6″ Soft-Toe Boot
.
Moc toe boots
Moc toe is just a different design of the shoe where there is a seam running along the top of the shoe. They are not solid or reinforced like a steel-toe boot, but are generally comfortable and lightweight.
The best lightweight moc toe boot for work on all surfaces (even concrete) is Irish Setter Men's 6″ 83605 Work Boot
. This boot is also superior for sweaty feet.
Non-slip work boots
Many types of work include slippery or earth moving job sites. Such conditions require soft rubber outsoles with deep treads that are good like mud tires.
The best slip resistant work boots from our test are KEEN Utility Men's Atlanta Cool Steel Toe Work Shoe
and Timberland PRO Men's Direct Attach Six-Inch Soft-Toe Boot
.
How to keep feet dry in work boots
Many outdoor work boots have waterproof lining that does not breathe well. When the foot is sweat, the moisture cannot evaporate out easily because of the shoes. This sweat, when worked upon by bacteria produces smelly fatty acids that cause your feet to produce pungent, unpleasant odor.
Your feet, tucked inside those shoes is always crying out for an opportunity to step out and receive fresh air. Due to the fact that you cannot walk around barefooted at work, you have no choice than to keep them strapped inside. That notwithstanding, you can still treat your feet right in order to keep them from sweating in boots.
The best boots for sweaty feet should be not so high and have a breathable material: KEEN Utility Men's Atlanta Cool Steel Toe Work Shoe
, Irish Setter Men's 6″ 83605 Work Boot
and Timberland Pitboss Soft-Toe Boot
.
Here are the following steps to consider to in keeping feet dry in any work boot:
Use cotton socks: It is advisable to use cotton socks as other materials such as rayon or nylon can cause excessive sweating on the feet. Always use a clean pair of socks when wearing shoes and try to change your socks often.
Wash feet daily: Wash your feet with warm water and a mild soap twice a day and pat dry with a towel. This would help keep your feet dry inside boots!
Change shoes: Change the shoes you wear daily! Do not wear the same shoe, Monday to Friday! Try as much as possible to wear sandals or open toed shoes to allow fresh air to reach your feet.
Apply foot powder: Foot powder removes sweat and odor from shoes, therefore apply a tangible quantity regular on your feet and in your shoes before wearing them.
Get a moisture remover: Add a crumpled newspaper or a small piece of cedar wood into your shoes when you are not wearing it. This will help to remove any wetness or moisture from inside your shoe.
Spray antiperspirant: An antiperspirant on feet works the same way it does for your underarms. It helps to reduce sweating and controls odor!
Soak in tea: soaking your feet once out of shoes in black tea containing tannic acid can help prevent sweaty feet. Add a few packets of black tea into a bowl of warm water and stir. Soaking feet in the mixture for 30 mins would help reduce sweating and say goodbye to embarrassing foot odor!
If you are looking for a way to cure sweaty feet, stop the wetness and odor completely, then you have come to the right place. With this tips listed above and even more tips here, sweaty feet would soon be a forgotten issue and a thing of the past!
Work boot laces
Work boots should have durable and tough laces. Many people in forums and reviews advise to use Ironlace boot laces
.
These are the best work boot laces out there. They are stronger than steel with more than 1500 lb breaking strength and heat, fire, corrosion and chemical resistant.
Comments