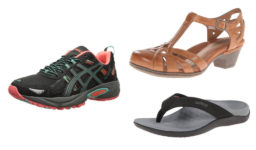 All women want to look good, but people with low arches or flat feet can't wear all types of shoes. High heels are particularly difficult as they require a strong arch to be able to wear them.
There is a difference between flat feet and a low arch. If your foot is not naturally flat, but was deformed into a fallen arch, it may be fixed by wearing proper footwear!
Current research suggests that walking barefoot is particularly good for your feet. Walking barefoot activates additional lower-leg muscles and helps support your body weight. Same studies have shown that wearing foot supporting orthotics and inserts will also selectively activate foot muscles and help you support and even rebuild the arch.