Best winter sneakers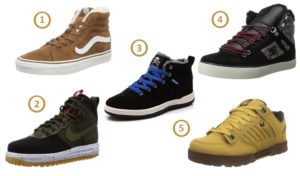 The best winter shoes are warm, waterproof or water-resistant and have large threads of soft rubber to protect against slipping on ice. There are a lot of different types of winter boots from very warm to stylish for a city winter. In this article we will take a look at some sporty types of winter shoes – winter sneakers.
The main feature of a sneaker is design and that they are lightweight. Winter boots are generally rather heavy due to all the material that is protecting your feet from snow and cold weather. So, are there any good lightweight snow sneakers out there? Turns out the answer is yes!
Here we have chosen some of the best snow sneakers for winter 2016 that are available on Amazon right now. We have looked both at the popularity, average review ratings and analyzed different features. You may now choose the best suitable shoe for you and your winter weather conditions.
Prepare for winter
Winter sneakers are stylish and look good, but not many of them have good traction or are waterproof. Here is how to prepare any shoe for winter:
Durability
Winter sneakers is a new type of shoe. They aren't designed to last long so durability is not the best. You may experience that they wear out before winter is out. That is due to lightweight design and softer soles.
You may extend the durability of your winter sneakers by taking some easy grips:
Avoid wearing them during rainy days. If your sneakers get wet – dry them as soon as possible.
Avoid walking by dragging the shoes on the asphalt. This will scrub the soles out fast. Take a look at how you walk.
Apply protection sprays before wearing the sneakers for the first time.
Store the shoes in a dry and warm place. Warm heated floors are best as this will take the extra moisture from the soles during the night.
Best high top winter sneakers
Snow boots are best if they are high top. This will prevent snow coming on the inside of your shoe. Your feet will stay dry and warm.
We have looked at several insulated high top sneakers in our test. The best are the new insulated Vans Sk8-Hi and Nike Lunar Force 1 Duckboot.