How to remove scuff marks from shoes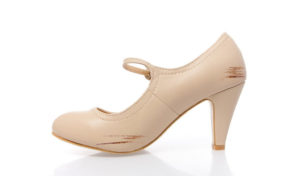 Scuff marks are dirty marks on shoes that were left by rough items like black rubber soles from a dancing partner's shoe, painted walls, stairs or furniture. Contact with any abrasive object may leave your shiny shoes scratched. Fortunately, people know many ways of how to get rid of scuff marks.
Start with determining your shoe material type. Different shoes requires different treatment. Marks on leather shoes will be treated differently from plastic or canvas footwear.
Leather shoes
Synthetic leather shoes
Synthetic or faux/fake leather is cheaper than real leather but provides the same look and shine. It is a durable material and require less care. Normal cleaning does little for removing the scuffs and may damage the look of the shoe.
In addition to all the remedies of the real leather you can also try to wash the scuffs of the faux leather with rubbing alcohol. Soak soft cloth in a mixture and rub gently until the marks are gone. Wipe the alcohol off with a wet cloth afterwards.
Make sure that what you are cleaning are scuff marks. It is common for synthetic leather to be spray painted for a color. If the scuff is a color wearing off it might get worse if you try rubbing it. In this case you need to repaint the shoe with a fabric paint.
Patent leather shoes
Patent leather is a type of leather that has been coated in a special substance to make it shiny. Patent leather doesn't require polishing, oiling or conditioning. Scrubbing the scuffs off may damage the surface and make the shoes fade.
Removing scuffs from patent leather is just like getting rid of them from real leather.
You can also try glass cleaner. It removes the scuffs and polishes the leather.
Suede and Nubuck shoes
Suede and nubuck are soft grain leathers and must be cleaned with special care. There is one rule of thumb for suede shoes: clean them dry!
Pencil eraser or clean magic eraser are simple remedies available at hand. The shoes should be dry. Rub an eraser gently over the discolored spots. Eraser lifts up the dirt from suede fibers.
Suede or nubuck brush or bar are the best remedy to remove scuffs. These are essentially an eraser with a brush. They get the rubber bits off the shoes and can be used for a long time.
Professional leather cleaner for suede and nubuck types of material are non-toxic gentle concentrates that work miracles on your shoes. Follow the instructions on the bottle for best result. Even special designed cleaner may damage your shoes by altering color, texture or feel. Make sure to test the mixture on a hidden spot before applying everywhere.
Rubber shoes
Rubber shoes are the easiest to clean the scuffs off. The process is the same as for leather shoes.
Canvas and fabric shoes
Scuffs on fabric shoes can't be polished with a shoe polisher. You may be able to wash them, but if not here are some tips on how to get the scuffs off:
Baking soda. Dry the shoe before cleaning. Scrub the scuffs with a brush and wet baking soda. Wash after scrubbing. Repeat if the scuffs remain.
Liquid soap or any other household detergent. Scrub the shoe with a toothbrush and a mixture of water and soap. Wash afterwards.
Simple pencil eraser or magic eraser. This may work if the scuff is not deep. Use fresh quality erasers without the color. Eraser may make the scuffs worse. Works best on sneakers and tennis shoes.
Vinyl and plastic footwear
Apply mink oil on vinyl shoes after cleaning the marks so they will not scratch up so easily.