Little boys classic dress shoes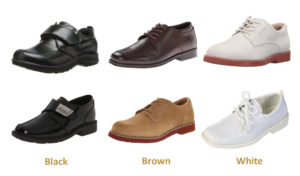 In this article we present best black, brown and white dress shoes for boys. Dress shoes are required to wear to church, school, wedding and other occasions that require dress appropriate shoes. They should be comfortable in order for your child to feel good.
We have chosen best boys oxford shoes for this article as dress shoes should complete your toddler's suits and dressy clothes perfectly. Some shoes are shiny and look great with a tuxedo. Others are tan suede that best for school. The reviews of the presented shoes are all above 4 out of 5 stars and are rated by more than a hundred users each.
Shoe laces
Many children doesn't know how to tie shoes. Kids may begin to dislike the shoes that are so hard to get on without help. Try choosing dress shoes that doesn't require tie skills.
Best shoes without shoe laces in our test are Kenneth Cole Reaction Fast Cash Loafer
and French Toast Cole Oxford Shoe.
Dress socks
The outfit won't be complete without a pair of nice quality dress socks that suit the nice shoes. Choose not glossy looking, sturdy socks that can stand up to many washes. Socks like Gold Toe microfiber socks
will last long enough.
The difference between usual socks and dress ones is that dress socks are thinner, usually made of microfiber that absorbs moisture and doesn't slide down the shoe causing blisters. It's not very comfortable to wear nice dress shoes and have to pull the socks up all the time.
Rules for dress socks
General rule is that the color of your socks should match the color of your pants.
Otherwise:
Wear black microfiber socks with black shoes.
Wear brown synthetic socks with brown shoes.
With white shoes socks color should match the pants.
School shoes for boys
If your school requires uniform shoes like Dirty Buck Suede you don't need to spend a lot of money buying the exact expensive shoes. Some tan suede shoes at Amazon are as good and much cheaper. For example Sperry Top-Sider Tevin Oxford
are the ones with the best reviews and the best price. These shoes are also quite difficult to clean. A general advice is to buy two pairs for a school year and clean properly one at a time.