Most beautiful sandals summer 2016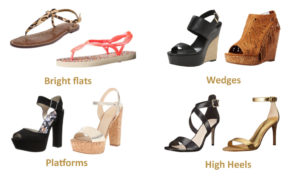 Most beautiful sandals are often weared by the celebrities. You have seen them on the pictures everywhere. They are stylish and make you proud of being a woman. Most of these sandals are cute and sexy, but suited only for a night out for food and drinks. Here is a selection of beautiful and comfy sandals for summer 2016.
Bright flats
Adorable flat shoes can be rather comfortable. They can be weared for longer periods and go along with almost any outfit.
Colorful bright flats for summer 2016: Lucky Women's Binnie Flat Sandal
, Havaianas Women's Luna Animals Sandal Flip Flop
High heels
Gorgeous high heels are good for cocktail parties, weddings and other charities. It is not advisable to wear them for long periods of time as they are not very comfortable.
Beautiful high heel sandals summer 2016: Cole Haan Women's Equina Sandal
, Lauren Ralph Lauren Women's Samantha Dress Sandal
Wedges
Wedges sandals are more comfortable to wear than classic high heel. They make you taller without the pain of the stilettos.
You can wear wedges for a longer period of time although they are not suited for long distances. Platform footwear is not the best for your feet as they don't offer enough cushioning and support. They can also be slightly dangerous as it is easier to flip and injure your feet.
The most important thing to look for in wedges is that they are lightweight. It is extra hard for feet to wear heavy shoes.
Platforms
Fabulous platform shoes are easier on the foot and are more comfortable to wear all day. They add the extra height without making your feet flex too much. Pay attention to straps as these types of shoes require good fit. It is much easier to fall down in high platform shoes and thus they are better suited for girls.
Wide feet
Almost no stylish shoes suit for wide feet. If you have wide feet try buying shoes slightly larger or with a stretchy leather like suede. In high heels your foot will slide forward and the shoe will fit.