Most comfortable walking shoes for men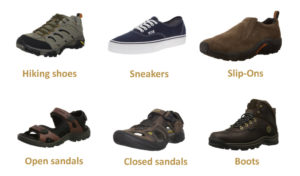 Our feet are historically designed to walk without footwear. Walking barefoot gives proper muscle training and strengthens the foot accordingly. Today, most people don't have healthy enough feet to go long distances without proper arch and foot support. Good walking shoes have a very good fit, are made of quality materials, last longer and are comfortable for their lifetime.
In this article we have chosen the best walking shoes for men for spring, summer and autumn. We have looked at the number of reviews and have chosen only footwear that had more than 1ooo reviews with an average of more than 4 out of 5 stars. These are all very popular shoes that have been on the market for a long enough time to be properly tested by many people.
We have chosen shoes in several categories: open and closed sandals, sneakers, boots, slip-ons and hiking shoes.
The best sandal for walking in our research is the ECCO Men's Yucatan Sandal
.
Best closed toes sandals are KEEN Men's Newport H2 Sandal
and Teva Men's Omnium Closed Toe Sandal
. The later has an adjustable ankle and was great on men with flat feet.
The best slip-on shoe for walking and standing all day is Merrell Men's Jungle Moc Slip-On Shoe
that is also suited for heavy guys.
The best walking sneakers in our test are Vans Authentic Original Sneaker
.
We have also chosen some hiking shoes like Merrell Men's Moab Ventilator Hiking Shoe
that is not so heavy and allows your feet to breathe while being water resistant at the same time.
Running shoes
Using running shoes for walking is not a good idea. Most running footwear has soft soles that work great at preventing stress to your feet while running. Walking in such shoes won't provide your foot with enough support. Too soft soles will also eliminate the stress needed for your foot to strengthen itself.
Shoes with laces
If your comfy shoes have laces make sure you keep them tied tight. It's bad if your feet slip around in a shoe as it can cause blisters and won't provide enough arch support.
Make sure your shoe laces are of good quality or they will break apart pretty quickly.
Comfortable insoles
Most walking shoes come with comfortable insoles with good heel and arch support. If you have shoes that have a slim insole, soles that has warned out or wretched replace them with new and more comfortable ones like Dr. Scholl's Massaging Gel Work Insoles:
Another option to make foot bed comfortable is to use orthotics
. These are special types of insoles that provide more support to the foot in the right places.
Replace the insoles if your heel start to hurt in the shoes. This maybe due to the wrong support of your arches, heel or base of the foot.
Shoe sole coming off
After a while some soles may start to come loose. This is happens especially often with rubber on front of the shoes. The soles falling off is not a serious problem and can be dealt with by gluing the rubber back once in a while. Use some good quality shoe glue
and you will be able to wear your favorite shoes longer.
Smelly shoes
If your shoes start smelling after you wear them it means that there is bacteria trapped in the material. Do not throw them away at once! Try to freshen them up and they will last longer.