Summer shoes for kids with flat feet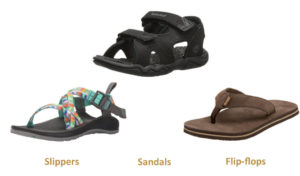 Flat feet is a condition when the arch of the foot collapse and the part or the whole sole comes in contact with the ground. This condition have different grades of severity, but in any case it requires good shoes with good support for the foot arch. In children, flat feet is specially dangerous to ignore. Walking barefoot is the best thing for your child. Good open toe sandals or slippers is the next best footwear for kids with flat feet.
Here we have chosen the best summer footwear for kids with flat feet in 2016.
Stinky feet
Children wear their shoes a lot. Very active kids are also hard on their shoes and the sandals fall apart after some time. And even if you manage to find footwear that holds up a whole summer, you can run into a problem of stinky feet or smelly shoes.
If you have shoes that make your child's feet smell pretty bad – do not wash and scrub your kids feet only. This problem is a result of bacteria feast on both your child's feet and the shoes. Take a thorough clean up of both.
Stiff shoes
Many new sandals are stiff when new and take time to break in. Soften them up and make more comfortable with the following tips.
If the shoes are made of leather and sewed together (not glued) than you can rectify the sandals by wearing them in a bath tub before wearing for the first time.
If you are not sure and the shoes cost a lot of money:
Choose a tiny test patch of your shoe and wet it. See if the color peels or discolors. If the test didn't find any flaws spray or soak the shoes with warm water (or quickly step into and out of a bucket of water). Wear the shoes until they dry. This process will soften and mold the footwear to your foot.
Hiking in sandals
Hiking in summer time can get really hard on the feet. Warm swelled foot become sore and get blisters easily. The warmer the shoe the harder it gets to hike and travel when it's hot. Choosing sandals for hiking is an easy way to let your feet breathe and cool naturally.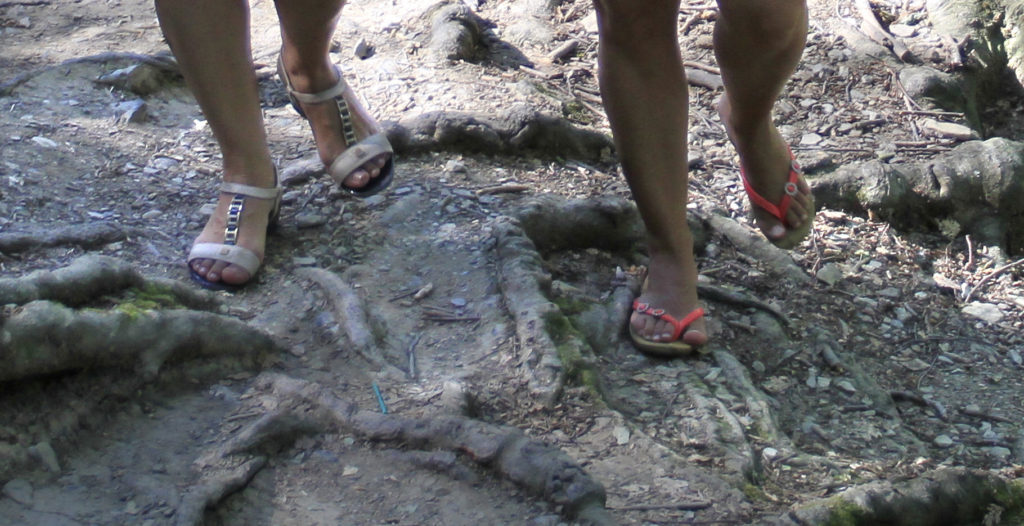 Here are some tips for hiking in sandals comfortably:
Choose comfortable sandals that are already broken in.
Take some plaster packs with you in order to cover potential blister places. It is always better to prevent sore feet than to treat them.
Have at least two pairs of sandals. Switch back and forth between the two as the feet get tired or sore.
Wear socks when hiking in dry places. They prevent blisters better than anything.
Do not hike in sandals in places with snakes and other creeping creatures. Sandals won't protect your feet from bites.