Best shoes for pregnancy
Pregnancy is difficult for many women. There are many changes that go on in your body. Your main job as a future mother at this stage is to maintain a healthy body and to do everything to bring a healthy baby to life.
In this article I've tried to choose the best shoes for different stages of pregnancy this year. Generally, you may wear anything you want if you can. Comfortable shoes make life of a pregnant woman a lot easier.
| Product | Width | Price | Sizing | Features | Overall score |
| --- | --- | --- | --- | --- | --- |
| Birkenstock Women's Mayari Sandal | N-M | $89.95 - $149.95 | 5-11,5 US | Classic sandal with very good support and cushioning. Lightweight, healthy material, easy to take on and off. Long lasting. Good for high arches and both narrow and wide feet. Best maternity shoes for summer. | 4,6 |
| adidas NEO Women's Lite Racer W Casual Sneaker | M | $29.95 - $231.80 | 5-11 US | Very lightweight, stretchy, soft and breathable mesh shoe. Best for wide or swollen feet. | 4,5 |
| UGG Australia Women's Bailey Button | M | $104.95 - $165.00 | 5-9 US | Classic ultra comform shoes that come both as boots and short moccasins. Stretchy, lightweight, warm and stylish and can be worn winter and summer. Best maternity shoes for winter. | 4,4 |
| Chaco Women's ZX2 Classic Athletic Sandal | M-C/D | $59.96 - $114.93 | 5-12 US | Adjustable sandals with arch support and comfortable soles. | 4,4 |
| TOMS Women's Classics Flat | M | $27.35 - $300.00 | 5-12 US | Classic canvas flat shoe that fits perfectly and naturally expands if your feet get bigger. Easy to put on and take off. | 4,3 |
| Minnetonka Women's Kilty Suede Moccasin | M-C/D | $30.00 - $62.95 | 5-11 US | Soft and cushioned moccasins with great traction that do not rub the feet and stretch as needed. Perfect fit for ever changing foot size. | 4,3 |
| Skechers Performance Women's Go Walk 4 Pursuit Walking Shoe | M-C/D | $24.49 - $106.00 | 5-13 US | Lightweight mesh shoes with good cushioning. Mesh top let's your feet breathe. | 4,3 |
| Crocs Women's Kadee II Flip-Flop | M | $11.99 - $49.95 | 5-11 US | Easy to take on and off. Lightweight. Cusioned open design provide good support and enough air for your feet. | 4,0 |
Choosing the right pregnancy shoes was a crucial part during my own pregnancy. I'm a tiny girl and I was always wearing pumps or shoes with high heels in order to look higher. It went well in the beginning, but then it started to hurt. If you experience any of the following types of pain, take another look at what you have on your feet.
Headaches
Headache is a usual symptom of pregnancy during the first trimester. If you are having headaches after approximately 12 weeks of pregnancy – take a look at what you are wearing (remember to consult your doctor to weed out dangerous situations).
If your doctor can't find the reason for your headaches or if the reason is tension headaches, take a look at your shoes. Even though your shoes may feel comfortable and cushioned it doesn't mean they are not hurting your back muscles and result in headaches.
I was wearing very comfortable, cushioned, thick stable 3cm heel, soft black quality leather and a price tag was over the roof.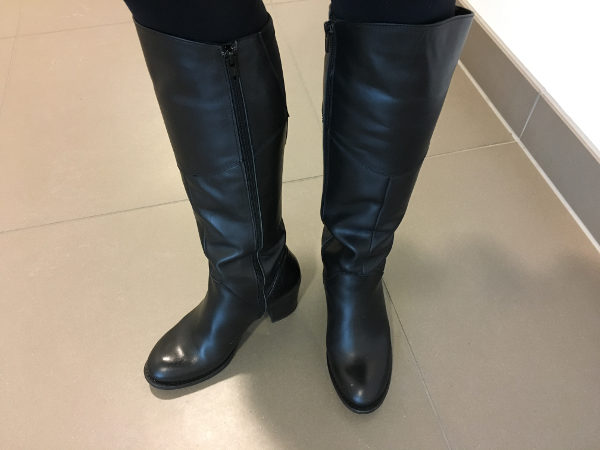 The headaches have been a nightmare! It turned out, these very expensive comfy shoes weren't a good fit for my body. I changed to cheaper shoes with another type of heel and the headaches were as good as gone the same day.
Tip: change you footwear, try different types.
Back pain
Back pain can be a result of many things. In pregnancy, all our muscles loosen a bit. The best thing you can do is exercise (if your doctor allows it). The next best thing – change your shoes.
Choose comfortable shoes with arch support if you have low or high arches or if you need extra support. The best supportive shoes for pregnancy that we know of are Birkenstocks.
Swelling
Feet swelling is another normal sign of pregnancy. It is not healthy, but there often times you can't do anything about them. My feet started to swell early in the third trimester and what I have experienced is that the smaller the shoe, the better. Swollen feet get worse when they are warm and sweaty.
Do not wear closed leather footwear or shoes with heels if your feet are swelling. Minimalistic sandals, flip-flops, sneakers with a lot of space and air and no heels. Try the contrast shower for your feet several types a day finishing with very cold water. This will make your blood circulate faster and may reduce swelling.
The best pregnancy shoes for swollen ankles and feet in our test are breathable sneakers from Adidas or similar Nikes. They are very lightweight, breathable, soft and really comfy to walk in.
Tip: wider minimalistic shoes from breathable material without heels.
Pelvic pain
While many recommend support devices and medication, my experience was that exercising along with wide shoes did a much better job. I was in a lot of pain during my first pregnancy. I read a lot of literature, slept with pillows and did some physical exercises. Nothing seemed to help a lot.
This time I changed 2 things: I was attending zumba dance class and wearing wide, soft mesh sneakers.
The result is that I'm now having just a bit of pain during the nights and after a lot of sitting at work.
Tip: wider stable cushioned shoes.
Disclaimer: these are not medical advises, but my own experiences only. You should always consult your doctor first.