Most comfortable flats for walking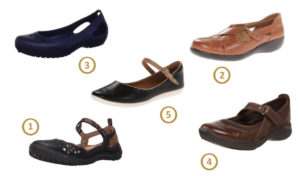 Flats are a popular simple shoe with a flat sole. They are derived from a ballet shoe with a little or no heel. There is some dispute of whether flats are better or worse than shoes with high heels. Flats don't cause a direct pain in your body at once, but rather damage your foot after a while.
In order for the flat shoes to be safe and comfortable they need to have a good arch support, cushioned sole or low heel and straps or other similar holding features that doesn't cause your toes to over-grip.
Flat shoes are smelly
Stinky shoes and feet is a problem some of us run into after wearing flats without socks. If you have an issue of smelly shoes or fit try Hue "hidden" liner cotton socks:

Flat shoes rubbing
If your flats or other shoes are uncomfortable on the back of your heel, if the shoes rub on your heel or if your heel are narrow relative to the width of your foot try heel pads:

An alternative solution for pain heel or in order to prevent the heels slipping out is to use foot petals. They provide extra cushion and can help rubbing shoes issues:

Cushion and arch support
Arch support and cushion are important for our feet to stay in good shape. Cushion is important to relieve the stress and pressure on the skeleton while we walk. Arch is a natural feature of our body to support it's own weight. Walking or standing for a long time gives extra pressure and damages the feet. Supporting the arch we give the skeleton some help in holding the feet healthy.
Even though you like the flats that don't offer enough arch support or cushion like the very popular TOMS women's canvas slip-on flats
you can always add some extra quality insoles for more comfort: