Best womens small size shoes summer 2016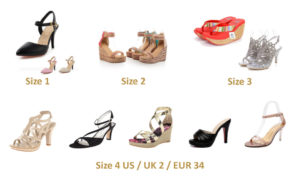 There were times when it was difficult to find small size shoes for adults. If you are a woman like me who wears size 4 shoe or smaller, than you already have some good shoes that you wear for several years. There comes a time when you can't fix it anymore and need to find a replacement.
Petite size adult women shoes are extremely rare to come by in regular shoe stores. Your solution is to look online. Fortunately, you can always easily return the shoes that don't fit and try another pair. In this article I will show you beautiful petite feet shoes that I've come by this summer 2016.
Size 1, 2 and 3 women's shoes
These extremely small shoe sizes for adult women are rare. I've compiled a list of the most beautiful sandals that you can buy for summer 2016 with good reviews and trusted sellers. Hope you will find something for your small feet too!
Size 4 women's shoes
There are more choices for women with size 4 shoes although not a whole lot still. With size 4 you can often search for shoes in the Little kid/Big kid department like this awesome sandal from Stuart Weitzman.
When choosing summer shoes on the internet try to choose footwear that is possible to adjust as much as possible.
Sandals with heels should be at least half size small than your original shoe size. This is due to your feet sliding down the heel.
Try to choose summer shoes with ankle straps. This will give you an opportunity to wear shoes that are a little bit bigger as well.