High heel shoes for men fall 2016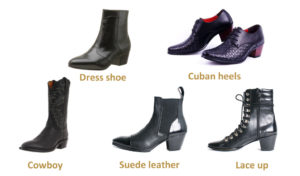 It is hard to find good quality shoes with high heel for men if they are not in a fashion this season. Thus the answer to the question where to buy high heel for men at any time is online.
Men wear high heel shoes for various reasons. It can be a back problem as low heel are best for most peoples feet no matter whether it is a woman or a man. Boots with low to medium heels are good to wear all day even without arch support. Some men like stylish footwear with heels while others would like to add some height.
In this test we have chosen the best high heel shoes for men in 2016 from the most trusted sellers.
Cuban heel boots
So called cuban heel shoes are easier to find. These shoes have a straight-sided low to medium height heels and look more masculine than feminine and thus more popular among men. Cuban heels give the best support for the foot and are easier to wear for long periods of time.
Best cuban high heel boots in our test are Dress Pointed Toe Lace Comfort Faux Leather Cuban Heel Shoes, High Heel Chelsea Dealer Boots Handmade and High Heel Buckle Black Suede / Black Patent Ankle Boots.
Cuban heel dress shoes: Giorgio Brutini Men's Pointed-Toe Dress Boot.
Big sizes
Men size 13 or 14 high heel shoes are even more rare and difficult to find. Cowboy boots Tony Lama Boots and stylish leather Giorgio Brutini dress boots have sizes 13, 14 and 15.
Wide feet
Not all shoes for men are suited for wide feet. Manufacturers label shoes with wide sizes with letter "E" for men.
In our test there were only two pair of shoes that were good for wide men's feet: Giorgio Brutini Men's Pointed-Toe Dress Boot and Tony Lama cowboy boots.
Women's heels
You can also look at the women's department for high heel shoes. As men's feet are generally larger than women's you should look at the shoes with large and wide sizes. For example, this Pleaser Pump goes up to women's size 15 and can be worn by men up to size 12-13.