Leather types for shoes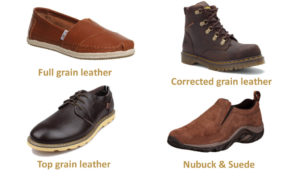 The popular saying that a man is known by the type of shoes he wears is still been debated today! Whether that information is correct or not, we do not know. However, what we do know for sure is that "a good pair of shoe completes your dressing, makes you stand out and receives compliments from family, friends or colleagues!
Shoes are now a necessity and a fashion statement that we cannot afford to do without it. Therefore, it is now very important that we pick shoes that look good, is comfortable and durable! One material that is commonly used to manufacture durable and long-lasting shoes is leather. Today, we shall be introducing you to the different types of leather used in making shoes!
Different types of leather for shoes
Firstly it is important to state that leather is gotten from the skin of animals, commonly cow, goat, crocodile, etc. when, the skin "hide" of the animal is removed and processed "tanned" to avoid decomposition.
Full grain leather
This is the outer skin or top surface of the animal. It is the most valuable part of leather because the leather fibers are smooth, tight and firm. Full grain leather is the most expensive type of leather used in shoes as it requires only the finest raw materials. This type of leather is not altered aside from removing the hair and tanning the hide. Full grain leather will develop a patina over time and last for many years to come.
Here are some really good full-grain leather shoes:
Top grain leather
Unlike full grain leather which is not altered, top grain leather is sanded on one side and any other imperfections in the hide is removed.
Corrected grain leather
Corrected leather is a form of full grain leather that has been polished to remove scratches and imperfections. It is gotten most times from inferior hides.
Suede, Nubuck or Split
The inner skin remaining after the top surface of the animal has been removed, is split by a huge metal blade, hence the leather is generally called split. This kind of leather is used to make suede or nubuck shoes. The difference between nubuck and suede leather is that nubuch is tougher and more durable. Both are sanded during process, but suede is sanded on the inner layer of the skin, while nubusk is sanded on the outer layer.
Nappa
Nappa leather is similar to top grain leather only that it is from goat. The leather is soft, delicate and not waxy. Nappa leather is very fragile hence it is not commonly used in making shoes.
Patent leather
If you see shiny glossy leather boots they are probably made of patent leather. This is a type of leather that is coated in lacquer from linseed or plastic. The leather is typically solid black, but comes in different colors. The material is naturally waterproof. It is common to choose patent leather shoes with dresses and tuxedos.
Leather shoe care
Since shoes are made from leather, it is important that we know how to care for our shoes so that it can last a longer time.
Full grain and top grain leathers
Wipe with a moist cloth to remove dirt, then place under the sun to dry. Polish with a high quality cream polish that matches the color of the shoe. Liquid polish and sprays should avoided unless under it is a must.
Suede or nubuck leathers
Clean by using a soft brush to remove dirt. Care should be taken to brush suede and nubuck shoes in one direction, so as not to make the shoe possess two different colors. Do not use water to clean suede or nubuck shoes as it will damage the delicate leather, but instead use a silicon spray to add water and stain resistance to your suede or nubuck shoe.
Shoes are now a fashion statement and an end of discussion appearance stunner for many ladies and gentlemen. Next time you enter into a boutique and you see a stunning price tag for that favorite shoe, remember this guide, ask questions and ensure you are getting a full dose of your money!
Patent leather
Patent leather doesn't need polishing or repellent sprays. Remove dirt with a dump cloth using leather care liniment if needed.
Scratches and scuffs may be removed in different ways depending on the type of leather.