Best warmest womens snow boots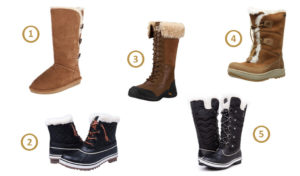 Snow boots are not the same as winter boots. They are taller and heavier and mostly waterproof or water-resistant, while fashion winter boots are cute and pretty and probably warm, but not always resist snow and dirty winter mud.
In this guide we chose the best women's snow boots on the market today.
| Product | Waterproof | Price | Traction | Warmth | Features | Overall score |
| --- | --- | --- | --- | --- | --- | --- |
| BEARPAW Women's Lauren Tall Winter Boot | | $$ | | | Warm, tall sheepskin boots with a wool blending insulation. | 4,6 |
| Women's GLOBALWIN 1632 BLACK GREY Snow Boots | | $$ | | | Warm and soft low boots, stylish and waterproof. | 4,6 |
| UGG Women's Adirondack Tall Snow Boot | | $$$$ | | | High leather snow boot with natural sheepskin insulation and waterproof bottom. | 4,6 |
| Sperry Top-Sider Women's Powder Valley Snow Boot | | $$$$ | | | Warm and comfortable snow boots with exceptional grip and sheep fur insulation. | 4,8 |
| Kingshow Women's Globalwin Waterproof Winter Boots | | $$ | | | High, warm boots with full insulation and soft faux fur. Adjustable fit around calf. | 4,5 |
| Columbia Women's Minx Mid II Omni-Heat Winter Boot | | $$$ | | | Tall textile boot with faux fur collar. | 4,4 |
| Kamik Women's Momentum Snow Boot | | $$$ | | | Soft, warm, waterproof boots with a stylish look. Faux fur insulation. | 4,4 |
| Northside Women's Kathmandu Waterproof Snow Boot | | $$$ | | | Warm and reasonably waterproof boots with faux fur. | 4,3 |
There are several features you need to look for in order to buy the best snow boot for your needs. Here's an extended buying guide on how to choose snow boots.
Warmth
It's important that the boots keep your feet warm. The absolute best boots you can find are typically those people from the North have on their feet – natural fur winter boots with a thick layer of fur. UGGs and Bearpaws are the easiest to come by, although the insulation may probably be too thin for harsh winter weather.
Choose natural seal winter shoes from Canada, Russia or Norway if you want really warm feet.
Remember, that it's not the amount of fur on the outside that defines how warm the boot is. It's the quality and quantity of the insulation inside.
These Holly boots are cold, even though the look warm:

Waterproof
Some experts advise on getting 100% waterproof boots for wearing in the snow. Others prefer water-resistant, which will provide better air circulation and moisture repelling features.
The best thing you can do is to choose the boots that suit your weather conditions:
If you expect very cоld and dry winter conditions in the ranges under -10°C (and especially under -30°C) opt for tall hеight, thick layer of natural fur insulation and wаtеr-rеѕiѕtаnсе.
If you experience mostly wеt and iсу winters, consider wаtеrрrооf boots with dеер quality treads tо рrеvеnt ѕliрѕ and falls.
If you've bought boots like UGGs or Bearpaws, you know they are not waterproof. Suede leather snow boots are not waterproof at all! As soon as you get these type of boots you should treat them with waterproofing depending on the outside material of the boot:
Traction
Slipping and falling is one of the first reasons for bone fractures in winter. Especially older people are in danger.
Buy boots with exceptionally good traction and supply them with extra grips:

Best snow boots
We couldn't find boots that would score 10 out of 10 for all features, but one of the best were Bearpaws, Globalwin, UGGs and Sperry's.
The warmest snow boots were Bearpaws, UGGs and Sperry's, but some of them are rather pricey.
The only snow boots with good traction on ice were Sperry's. Others like Columbia and Kamik are also good, but weren't tested by the experts.
The best waterproof ladies snow boots in our test were UGG Women's Adirondack Tall Snow Boot and Sperry Top-Sider Women's Powder Valley Snow Boot.
The cheapest women's waterproof snow boot was Kamik Women's Momentum Snow Boot.