Stylish winter boots for men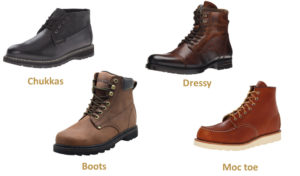 Looking for nice and stylish winter boots that are not chunky or big? We are here to help.
Previously we have researched the warmest winter boots, but many of them are big and some even ugly. They are not designed with style in mind, but rather warmth and quality. Stylish winter boots on the other hand aren't usually very warm in a sense that you can't wear them outside in freezing weather for many hours. But many are warm enough for most city winters and are waterproof.
| Product | Warmth | Price | Traction | Waterproof | Sizing | Overall score |
| --- | --- | --- | --- | --- | --- | --- |
| Timberland Men's Britton Hill Clean Waterproof Chukka Boot | | $115.94 - $197.43 | | | 7-14,5 (M-2E) US | 4,7 |
| Ever Boots Tank Men's Soft Toe Oil Full Grain Leather Insulated Work Boots | | $59.99 | | | 6-13 (M) US | 4,6 |
| Sperry Top-Sider Men's Dockyard Chukka Boot | | $77.99 - $209.99 | | | 7-13 (M) US | 4,7 |
| UGG Men's Hannen Boot | | - | | | 7-18 (M) US | 4,6 |
| Lacoste Men's Montbard Boot 2 Winter Boot | | $109.99 - $219.95 | | | 7-13 (M) US | 4,6 |
| Teva Men's Durban Leather Chukka Boot | | $42.46 - $130.00 | | | 7-14 (M) US | 4,5 |
| Red Wing Heritage Moc 6" Boot | | $207.00 - $350.00 | | | 6-14 (M-2E) US | 4,3 |
| Volcom Men's Smithington Winter Boot | | $75.83 - $155.00 | | | 6-13 (M) US | 4,4 |
| Aldo Men's Giannola Boot | | $170.00 - $175.00 | | | 7-14 (M) US | 4,3 |
| Golden Fox Men's Premium Leather Soft Toe Light Weight Industrial Construction Moc Work Boots Insulated | | $65.95 - $70.00 | | | 5-13 (M) US | 4,2 |
| Timberland Men's Earthkeepers City Chukka Boot | | $55.60 - $129.00 | | | 7-15 (M-2E) US | 4,1 |
Warm fashionable winter boots
There are some warm and many not very warm winter boots in our test. The warmest are UGG Hannen Boot. UGGs are known to make warm boots in general and this one is good looking too.
Not all fashion winter boots for men are warm enough. If your feet are freezing or cold in your new fashionable footwear, try the following remedies:
Wear wool socks. There is a great variety of both long and short ankle socks available. Merino wool is said to be the best to hold the heat in winter.
Properly size your boots. It should be room to wiggle the toes while wearing thick socks. Too tight footwear doesn't give much room for the warm air to stick around your feet. Tight shoes will also inhibit blood circulation in your feet, also giving you colder feet. It will also hurt after a while.
Choose boots with thick outsoles and insert extra insoles. The higher you are from the freezing ground the better. You loose a lot of heat simply standing on the cold surface.
Waterproof winter footwear. Wet feet are the same as cold feet. It's almost impossible to warm up water from our bodies heat when it's cold.
Dry your boots properly every night. Moisture from sweat and melted snow builds up inside winter footwear without you realizing it. Keep the boots on a heated surface or use a shoe dryer. Switch it on for just 15 minutes each time you come home in the evening.
Insole foot warmers may help if you are staying outside for quite some time.
Rechargeable heated insoles my also help but doesn't always work.
Winter shoe care
Winter weather may get really wet as snow melts and dirty slush comes out. A lot of snow mixed with salt or any other melting detergent that your country is using to protect the roads from ice will damage your boots. Winter boots are designed to be worn for several years so take good care of them:
Before wearing for the first time protect the boot with a water repellent spray. Even dry snow will melt eventually making your boots wet.
Allow the boots to dry properly every day.
Remove salt stains as soon as they happen.
Clean the boot and remove scuffs and marks regularly.
Apply oil, wax or leather conditioner to protect the upper of the shoe.
Store the boots with paper inside to prevent moisture damage and make them keep their shape til next year.
Comfort and arch support
Not all boots offer good arch support. If it doesn't fit quite right check whether you can take the insoles out and replace them with more suitable ones. Good support insoles are Dr.Scholls, Powerstep and Superfeet. There are also Red Wing Heritage Comfort Force insoles for those who love Red Wings.
Insoles often make that huge difference between a good fit and a great fit. If you have never tried them – now it's time!
Laces
Winter boots are clothes that we wear for several years. Not all parts of the boot are durable enough to withstand heavy wear. Examples are laces and lace hooks.
Generally, laces should be changed every year. If you like your boots tight than you may need to change them more often or buy reinforced laces or even Ironlace laces. Ironlace laces are stronger than steel and are fire and heat resistant. These laces will last longer than all your shoes.
Another problem that you may face with durable winter boots are that lace hooks break off. A pack of new lace hooks with rivets will help you out. Here is a good video of how to install them on your shoes:
You may also change eyelets and grommets. Remember to buy the right size and the tool! Here is a great video to help you install them.